Tennent's Story attracts record visitors in first year
The Tennent's Story visitor centre at Wellpark Brewery is celebrating a record year of visitors since its launch last November with latest figures revealing the Glasgow attraction enjoyed a 46% increase in footfall (YoY), cementing its position as the leading beer destination in the UK.
Since opening its doors in 2018, The Tennent's Story has placed itself firmly at the heart of Glasgow's tourism industry, playing a key role in helping achieve the city's ambitions for visitor growth by 2023.
The popular attraction has given more than 31,000 tours to Tennent's fans from across the globe.
And after its record-breaking year, it now ranks seventh on TripAdvisor of top things to do in Glasgow, with more than 800 five-star reviews.
The three-floor attraction is home to artefacts gathered from the first days of brewing at Wellpark, from Hugh Tennent's introduction of lager to the UK through to today.
Visitors enjoy an immersive experience tracing the history of Scotland's oldest brewery which covers everything from its origins, production, provenance and even how to pour the perfect pint.
The Tennent's Story has also held numerous events, including two sold-out live recordings of the popular Open Goals podcast, as well as hosting a wide range of corporate visitors such as the SLTA and the Marketing Society Scotland.
In addition, the team has welcomed several VIPs, including singer-songwriter Amy Macdonald and internet sensation Jamie Genevieve who were both awarded Golden Cans at the visitor centre.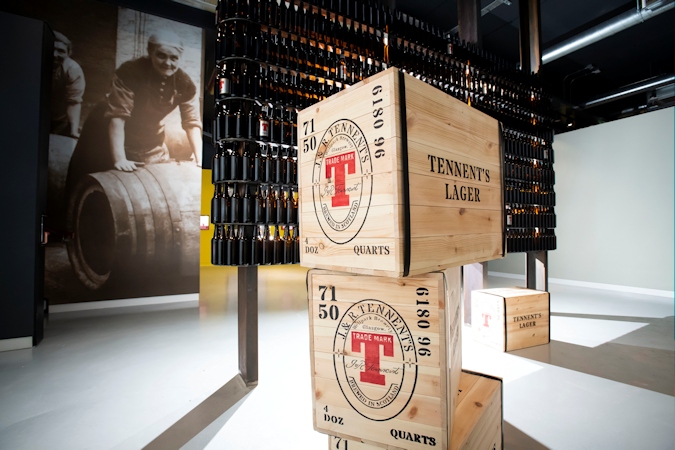 James Hughes, brand manager at Tennent's said: "The Tennent's Story is the single biggest investment we've made in the brewery's visitor experience, so it's fantastic to see such great numbers and so many people raving about the experience.
"We have welcomed the world through our doors since we launched last November, with more than 31,000 people not only learning about Tennent's Lager but the history of our city.
"We're incredibly proud of the footfall figures we've achieved, but additionally, the reaction we've received from the public.
"With beer tourism on the rise, we want to keep this as a place that both visitors to the city and Glasgow locals can both enjoy.
"We're also glad to have benefited the wider tourism ambitions for Glasgow, boosting visitor numbers for this wonderful city we call home."