In recent clusters, indoor hospitality settings such as bars and restaurants and social events and gatherings in people's homes have stood out as major risk factors. A £1m support fund has been set up for Aberdeen, with grants of £1500 available for hospitality businesses.
Scotland will remain in Phase 3 of lockdown
Yesterday the First Minister announced that Scotland will remain in Phase 3 of the route map out of lockdown because COVID-19 remains a significant threat to public health.
Nicola Sturgeon announced that from the 24th August organised outdoor contact sports, some outdoor live events, driving lessons, child contact centres, face-to-face advice services, bingo halls, amusement arcades and casinos, snooker and pool halls, indoor bowling and both static and travelling funfairs can re-open – subject to strict adherence to guidance and appropriate safety measures such as physical distancing.
The First Minister also announced new measures to control the spread of coronavirus following outbreaks across the country.
She said that in reports of recent clusters indoor hospitality settings such as bars and restaurants and social events and gatherings in people's homes have stood out as major risk factors.
Under new legislation local authorities will be given the power to act in respect of individual, specific premises that are breaching guidelines and risking transmission of the virus.
In addition, the Scottish Government intends to give the police new powers to break up and disperse large indoor gatherings.
Regulations will be laid next week with the intention they come into force on Friday 28 August.
The First Minister said:-
"The prevalence of the virus continues to be at low levels in Scotland, but we are also recording more positive cases than three weeks ago and we have seen one significant outbreak in Aberdeen and a number of smaller clusters in locations across the country.

I hope the re-opening of some services will be welcomed because we know it is essential to reduce the economic harm this virus is doing, but I hope people will also understand why, as we try to open services and keep them open, we must take firm action when rules and guidance are not being complied with.

Two major risk factors have stood out in reports of recent clusters and these are indoor hospitality – including bars and restaurants – and social events and gatherings in people's homes.

I am grateful to all of the many pubs, restaurants and cafes who have gone to great lengths to stick to our rules, but we know not all hospitality businesses have implemented the guidance effectively.

We therefore intend to strengthen the power of local authorities to act in these circumstances.

The second area we have been looking at carefully is indoor social events, like house parties. We know from reports and our own test and protect teams – and also from evidence from other places in the UK and indeed around the world – that these indoor events pose a major transmission risk.

So for use in cases of flagrant breach and as a last resort we intend to give the police powers of enforcement to break up and disperse large indoor gatherings.

We believe that both of these new powers are necessary if we are to continue to suppress the virus, minimise the risk of outbreaks and keep it under control, which is so necessary."
With the general reopening of bingo halls, amusement arcades, casinos, snooker and pool halls, this should lead to changes for the licensed trade in respect of allowing the operation of fruit machines, pool tables ect.  Government guidance is currently being updated and we will keep you up to date once confirmed.
In respect of outdoor live events, this is not expected to include hospitality settings such as beer gardens, but again this is still to be confirmed.
On a different matter the SLTA and other industry bodies are pushing the Government to produce much clearer guidance on the issue of queue management as the recently reviewed guidance is still causing confusion.
The current guidance for queue management is:-
"There is an increased risk that physical distancing will not be observed in queues in a hospitality setting, particularly during evenings. Except for take-away services and cafeteria settings where queueing must be managed with physical distancing, there should be no queueing inside premises, such as at bars, and systems should be in place to ensure this does not happen.

Ordering may still take place at designated points which have been risk assessed, where physical distancing is observed and where queues do not result from the process i.e. systems in place to ensure only one person can approach at any time.  Steps should be taken to avoid queues outside the premises as much as possible but where unavoidable for safety reasons, measures should be taken to ensure physical distancing.

Exceptions would include small businesses such as cafes providing takeaway services or where numbers of customers turn up simultaneously and need to be held in line for a short period of time until they can be safely checked in.  Holding people in line generally to wait for others to leave and make space is not a valid reason. Businesses who already have strong measures in place to manage external queues with physical distancing should retain these for when they may be needed for safety reasons."
The SLTA will keep you informed of any further changes to the overall guidance for the hospitality industry.
£1m support fund for Aberdeen
A £1m support fund has been set up for Aberdeen, with grants of £1500 available for hospitality businesses.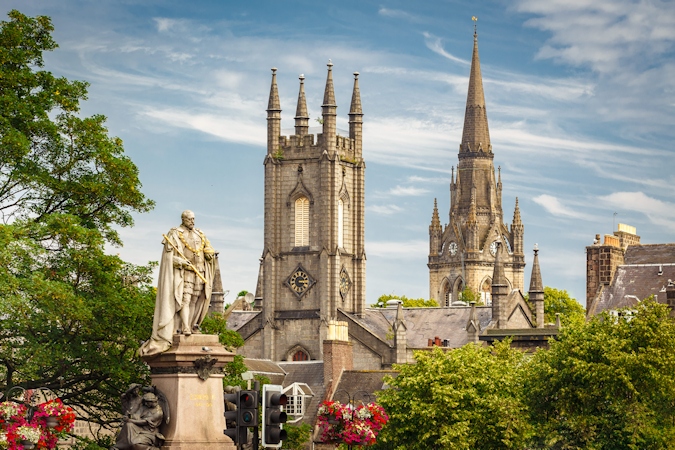 The funding is restricted to businesses specified in the local lockdown regulations. It will operate as a two-tiered scheme, with a smaller grant of £1,000 for businesses with a Rateable Value (RV) of under £51,000 and a larger grant of £1,500 for those businesses with a RV over £51,000.

To be eligible for a grant your business must meet the following conditions:
You are a hospitality business operating within the Aberdeen City local authority area
Your business or premises have been forced to close as a direct result of COVID regulations (lockdown restrictions) applied to Aberdeen City on 5 August 2020
You have a business bank account. This is the account your grant will be paid into if your application is successful
Your business pays Non-Domestic rates. Businesses that pay rates through their landlords rather than directly to Aberdeen City Council are eligible to apply (evidence to be provided through copy of lease agreement)
Businesses which have breached wider COVID regulations/requirements prior to local restrictions are not eligible to apply
Restrictions must apply to your business for a minimum of 15 days for support to be triggered
Businesses that operate multiple premises can apply for grants for each premise. The maximum any one business can receive will be restricted to £10,000 in total, regardless of the number of premises.
For more details and to apply for your grant, please click here.