Leith newcomer Toast hopes to shake up the Edinburgh hospitality scene with its 'coffee, wine and food' concept which has local sourcing at its heart
LEITH'S first wine café – Toast – is a celebration of the "pure enjoyment of eating and drinking with friends".
Doing brisk business at 65 The Shore since opening on August 8, Toast offers a casual coffee, wine and food experience in the surroundings of a former art gallery and brings a contemporary, new concept to the banks of the Water of Leith.
Open seven days from early until late with 44 covers inside and 20 outside, Toast's philosophy is to "serve simple yet imaginative food alongside a carefully-curated, predominantly, biodynamic, organic and natural wine list".
Wines can be enjoyed by the glass, or sommelier Seli Shama can create a bespoke tasting menu to suit individual tastes. A tasting room that will host regular events will open at a later date.
Head chef Lizzie Arber and her team have created a menu of great-tasting dishes with ingredients sourced from local suppliers.
With seasonal produce at the heart of the breakfast, weekend brunch, lunch and evening menus, Toast is taking well-loved dishes and giving them an exciting new twist.
Cuisine ranges from classic breakfast dishes in the morning to artisan salads, soups and sourdough sandwiches at lunch, and sharing platters and tapas-style plates in the evening.
Toast's coffee is sourced from Monmouth Coffee Company, the oldest roaster in Britain. A choice of creative cakes, pasties and breads, including vegan and gluten-free options, is sourced from Leith's Quay Commons, Pastry Section in Stockbridge and city cake-maker Grams.
A hand-picked selection of craft beers sits alongside a short but interesting cocktail list, devised by Toast's bar staff.
Owner Zak Hanif said: "Toast's philosophy is to welcome everyone at all times. One table may be enjoying flat whites and cake, while at the next they are drinking craft beers, and another is sharing a charcuterie plate with a bottle of wine. The uniting factor is the unfaltering quality of everything we will be serving."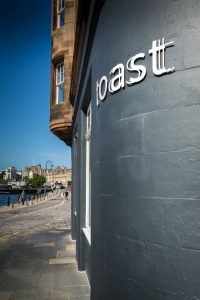 Hanif comes from an acting/film-making background but has been involved in the hospitality industry for almost 30 years. He sticks to a very similar philosophy whether it's setting up a composition of a shot with his cinematographer or discussing the complexities of pairing a glass of wine with a dish on the menu.
Toast is his fourth venture with business partner Aytac Gul in Leith. They previously ran Anfora and still operate Printworks and Avocado. Their vision for Toast is to provide a simple, honest menu of the best food and drink they can source for customers to enjoy with friends in a beautiful, welcoming space.
Chef Arber, 30, has moved from London to join Toast in Edinburgh. Her love of seasonal ingredients and interesting flavour combinations have seen her responsible for the development of several café and bar menus in London, and she hopes to bring the same style to Toast.
With a background in vegetarian and vegan cookery, she has a keen interest in creating ethically-sound dishes and working with local suppliers.
Other suppliers include: Bibendum Wines, L'Art du Vin, Hallgarten Druitt Wines, Liberty Wines, Raeburn Fine Wines, Williams Bros (craft beers), The Campervan Brewery, Secret Herb Garden, George Bower Butcher and Armstrong's Fishmonger, both Stockbridge.