Tennent's red T goes green as firm ramps up sustainability plans
Tennent's has unveiled an enhanced investment of £14.23 million in sustainability, significantly boosting its contribution to the fight against climate change – and confirming plans to eradicate single-use plastics by 2021.
Bolstering its existing commitment to responsible production, the investment enables the introduction of pioneering green technology and strategic partnerships.
From next spring, the brand's larger canned product formats will use cardboard packaging as an alternative to hi-cone rings and shrink-wrap. Smaller packs will follow later in the year with a further pledge to be out of all plastic by 2025.
Tennent's has also become the first brewer to join the likes of John Lewis, Tesco, Unilever and Coca-Cola in becoming a member of The UK Plastics Pact – a collaborative initiative that brings businesses together with governments and NGOs to help move towards a system which keeps plastic in the economy and out of the environment.
Meanwhile, a newly-built water treatment plant is now operational at Tennent's Wellpark brewery in Glasgow, enabling the on-site treatment of waste water generated as a by-product of brewing.
A first for a Scottish brewery, the facility further improves the quality of waste water while also generating biogas, which is then used to help heat the brewery. Reducing energy drawn from the National Grid, the biogas supports 5% of Wellpark's energy needs.
Plans are also in the pipeline to ensure that all of the brewery's energy will come from renewable sources by 2025, 20 years ahead of the Scottish Government's targets.
What's more, a new carbon-capture facility will break ground at Wellpark by the end of 2019, saving the equivalent of 27,000 flights to London from Glasgow each year in Co2. The business is investigating other carbon-offset innovation and is committed to being net carbon zero by 2025.
Tennent's has built strong relationships with local producers over many decades. Made from 100% Scottish barley, sourced from almost 100 farmers at a cost of £7.5m per annum, the beer's by-products are then entirely recycled for use as animal feed or organic compost, helping Wellpark to send zero waste to landfill, which it has done since 2014.
A pint of Tennent's also travels up to seven times less in mileage than many of its UK competitors.
Meanwhile, Tennent's has linked with the 2050 Climate Group to engage people throughout Scotland on the issue of climate change.
Martin Doogan, group engineering manager at C&C, Tennent's parent company, says that this activity represents a sizeable and enduring investment in the future.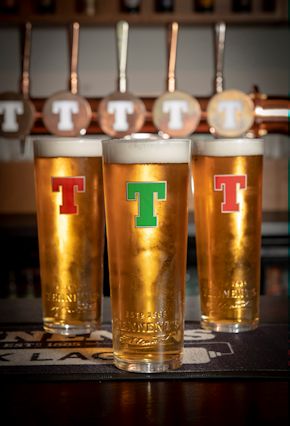 "Sustainability is a core part of our brand and this marks a significant step change in our plans," he comments. "We've leveraged our scale and influence, our passion for innovation and our network of contacts to ensure that we act decisively against climate change, without delay.
"It's a leap in the right direction – but we're not complacent and we're not finished. We will continue to seek out ways to minimise our environmental impact across our entire business, from our transport fleet, to international deliveries.
"Our commitment is to lasting environmental change; in our company, in our industry and beyond."
The business has also launched a new advertising campaign highlighting the importance of sustainability.
With the line 'Because Life is Bigger than Beer', ads will appear on digital and out-of-home locations across central Scotland, with the dual aim of raising awareness of environmental responsibility and prompting engagement in its initiatives, such as 2050.scot.
As part of this, a new brand film has been released on social media. Filmed in locations across Scotland, including Tennent's water source, Loch Katrine, it can be viewed at www.tennents.co.uk/sustainability
Image: Martin Doogan