Even in these extremely difficult times for us all, Scotland's pubs and bars continue to provide support for Charities and other deserving causes where they can.
Renowned for raising millions of pounds per year even the current coronavirus epidemic hasn't completely halted the valuable contribution made to those in need by the licensed trade.
The SLTA would like to hear from Scotland's pub and bar owners and staff on what they are doing to help those in need during these unprecedented times.
Simply drop an e-mail to theslta@aol.com and tell us what you are doing and if possible, also send a photo or two of you and your business.
Our first "Charity Star" takes us to the Mercat Grill in Whitecraig, just east of Edinburgh, where big hearted licensee, Graham Blaikie, donated £250 to a local foodbank and promised to match all donations collected from its customers.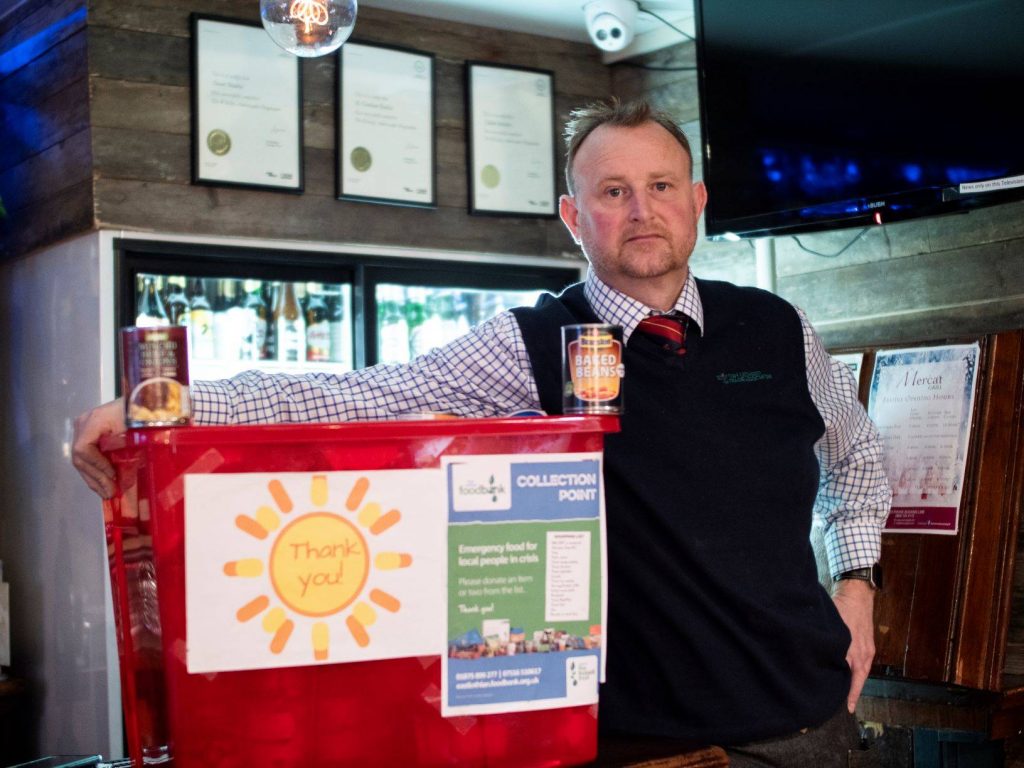 To kick start a new charity initiative and help those poverty-stricken people across Midlothian and East Lothian with vital food supplies, the owner of the independent, family-run, Mercat Grill in Whitecraig, East Lothian has donated £250 worth of food and drink to East Lothian's Foodbank. Furthermore, the Mercat Grill is going to match every food item donated by its customers, which they can do safely and conveniently, when ordering from the restaurant's new take-away service, at the time of their food being delivered.
Graham Blaikie, owner of the Mercat Grill said:-
"We do a great deal in our bar & restaurant to help various charities and now more than ever, we really want to do everything we can to help in this time of crisis. We've obviously had to shut our doors to customers drinking and dining with us but now we're bringing our delicious dishes to your door, which will help us try and stay in business, retain our staff and with our new foodbank collection service – bring much needed sustenance to those in Mid and East Lothian, who really need it.

We're also going to be making some of our tasty, fresh and wholesome cuisine and dropping these dishes off on a regular basis for the incredible, brave and hard-working NHS workers at the Edinburgh Royal Infirmary, to whom we are extremely grateful for their life saving work. Last night, I dropped off homemade pizzas, lasagnes, fish and chips, cans of juice and chocolate, with a big thank you note.

And every week, to bring a little cheer to our customers ordering take-away, we'll be selecting at random, a customer who will receive our Mercat Grill's 'Happy Hamper'! We'll be putting together little surprises and dropping them at your door – it could be anything from a voucher for take-away fish and chips, cheese and wine to a bottle of bubbly!"