Over 1000 highland hoteliers and tourism businesses urge the First Minister for clarity of direction and support in coming out of lock down. Update on the tied pubs (Scotland bill). Culture, tourism, Europe and External Affairs Committee report. Scottish tourism intentions – views of Scots.
OVER 1000 HIGHLAND HOTELIERS AND TOURISM BUSINESSES URGE THE FIRST MINISTER FOR CLARITY OF DIRECTION AND SUPPORT IN COMING OUT OF LOCK DOWN
In a letter to the First Minister, supported by over 1000 Highland hoteliers and tourism businesses based primarily in the North Highlands and close to the NC500 route, the group said:-
The absolute imperative is to protect lives from the immediate danger of the virus. Once this threat recedes, we would urge the Scottish Government to:-

Ensure our ministers take a positive lead to help allay the understandable anxieties within our communities about the prospect of tourists returning once more.

Balance both the short term and long term impacts when evaluating the risks. Unless there is clear scientific evidence to suggest otherwise, to unlock the Highlands in alignment with the rest of Scotland, ideally the rest of the UK.

Set out a clear, comprehensive and transparent plan including timelines. We all recognise that these are dependent upon the progress of the virus, but this will help businesses to start planning and narrow our working assumptions.

Avoid a 'one size fits all' approach to our diverse industry and ongoing financial support that recognizes the difficulty of bridging the winter fallow period."
The letter also highlighted that:-
Tourism spend in the Highlands alone is worth over £1 Billion a year, which represents more than 10% of business share. It creates more than 15,700 jobs. If widened to include the numerous suppliers, producers, business services etc who all rely on this sector, this number increases significantly."
Recognising the focus of the Covid 19 crisis has, rightly, centred on the immediate and tragic human cost and on finding ways to mitigate this quickly, the group stressed that all factors must be taken into account when discussing the ending of this phase and how we navigate through the next few months.
Going forward, we need a long term, positive and nuanced message from our politicians to support the importance of tourism:-
Tourism and hospitality have been hit very hard by the lockdown, perhaps nowhere more so than in the Highlands, with its tiny, highly dispersed population, fragile communities and short season. However, we recognise that the long-term recovery of this vitally important industry is only one consideration. Many of our communities have largely avoided the virus to date, and we are very aware that within these communities there are many who regard a wholesale reopening to visitors from out with the area as a dangerous and short-sighted move. This anxiety is understandable given our experiences over the last few months and the focussed message issued by our politicians. The reopening must, therefore, be handled with care to take this feeling into account. Otherwise we risk opening the way for community divisions, and potentially damaging press coverage that will risk the survival of the famous 'Highland Welcome' for which we are known around the world.
There is a view that we must choose between businesses and the economy on the one hand and community health on the other. This is absolutely not the case. We are all in this together. Businesses, their owners and employees are just as much part of these communities as everyone else, and we too have friends and family here. In every sense, many have our entire lives here, and the safety of our employees, our communities and our guests is paramount.
However, it is now time to widen the discussion from the short-term impact of this virus to the medium- and long-term consequences of extended lockdowns. Short term protection, whilst vital, cannot be the sole factor in determining our policies going forward. The long-term health impacts caused by widespread unemployment, increased poverty and deterioration of mental health may be less tangible and difficult to quantify but are nonetheless real.
Given the reliance on tourism to the Scottish economy, the demographics and geography of the Highlands, the threat is high. We believe that all the positive work that's been done by the Scottish Government to alleviate rural deprivation and poverty is severely threatened, with the likelihood that there will be even further depopulation of this already fragile region. We are asking for visible leadership to help promote this message to ensure that our communities move forward in harmony.
As soon as it is safe to do so, we need our businesses to open in alignment with the rest of Scotland, ideally the rest of the UK:- 
The 'stay at home' message from government has been very effective thus far, with a very high proportion of the rules being upheld. There have been calls to extend the lockdown in the Highlands for longer, beyond the rest of Scotland or UK. Given the timing and realities of our situation, this could be ruinous. If our businesses cannot open until the autumn then, given the short season, it will be less viable for those that are seasonal to reopen until next year, meaning many will have been shut for 18 months.
The difference between re-opening in July or September could likely be the determining factor in the survival of our industry, its suppliers and producers here.
Business can clearly play its part in generating confidence amongst our communities. One way of achieving this would be through the implementation of a Covid Quality Assurance Scheme. Assuming such a scheme would be rolled out nationwide, it would help us to communicate the stringent measures being put in place to mitigate the risk of transmission. It will be crucial though, that any such scheme is adaptable from the large to the small businesses that form the backbone of the Highland economy.
Flexibility of approach and ongoing support up to Easter 2021 are essential:-
It is clear that the social distancing measures required during unlocking might mean that some of our otherwise healthy, viable businesses cannot operate in the short term. However, it is generally accepted that the Highlands will be a highly desirable tourist destination as soon as people feel safe to travel once more.
It is vital, therefore, that any measures we adopt are clearly rooted in science and WHO guidelines. One advantage we do have, is the ability to learn from the successes and failures of our European neighbours as they open their restaurants and hotels ahead of us. We must start the learning process now, if it hasn't already begun, to ensure that we don't have to reinvent the wheel. Differences in approach do not instil confidence.
As we learn more about the current nature of customer demand and the appetite for a 'staycation', our industry will need continued financial support from the government whilst we navigate the short to medium term. Ongoing furlough, with phasing, may need to be reviewed again as we progress. Access to grants and loans will be key as we move into 2021."
UPDATE ON THE TIED PUBS (SCOTLAND BILL)
The Economy, Energy and Fair Work Committee is considering the Tied Pubs Scotland Bill and had previously asked for views on the Bill.   However, due to the impact of COVID-19 on the pub industry, the Committee agreed to pause its call for views and evidence sessions on the Bill, which were due to take place in April.
Whilst acknowledging that this continues to be a challenging time, the Committee believe it would be helpful for the industry to have clarity on the matters contained within the Bill and have therefore reopened the call for views and their survey. The new deadline for responses is the 14thof July.   The Committee have designed this survey to hear the views of tied pub tenants on the Bill, and will use responses to inform its report and recommendations.   The responses will be summarised and an anonymous report will be published.
There are a total of 14 questions in this survey, and you do not have to answer all questions if you do not wish to.
If you are a pub tenant, you can help the inquiry by completing the Committee's anonymous survey on the Bill.
CULTURE, TOURISM, EUROPE AND EXTERNAL AFFAIRS COMMITTEE REPORT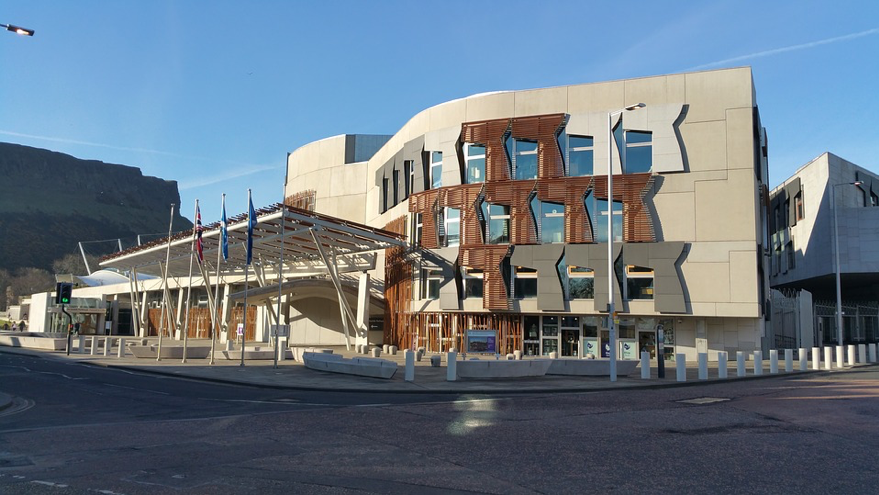 The Scottish Government's Culture, Tourism, Europe and External Affairs Committee met recently following a call for evidence on the impact of Covid-19 on the tourism sector.The main item of business was an evidence session with Fergus Ewing, Cabinet Secretary for Rural Economy and Tourism.

Mr Ewing opened the session with the following statement:-
As the cabinet secretary responsible for tourism, it is clear to me that the impact on tourism has been devastating. There is, in essence, no tourism in Scotland currently. Working with the United Kingdom Government and the other devolved Administrations in these islands, we have also had to ensure that we have swiftly and effectively put in place measures to provide financial support to businesses that face a sudden, devastating and unprecedented loss of income.

We are working extremely hard and I emphasise that we have done so of necessity and speed to help businesses to be able to survive and navigate this extraordinarily difficult period. That task is made more challenging because we cannot say with any certainty how long the restrictions will be required for.

I have no doubt that the various support streams that we in Scotland and the UK Government have put in place will be continued for some time. Should they require to be phased out, as eventually they must, that process must be gradual, because the recovery for the tourism sector will not be quick; it will be slow.

It will be a long period of recovery, and we have to prepare for that. We regularly review the physical distancing restrictions, which will be amended only in line with medical advice. At this stage, it is not possible to say what measures will be put in place in the near future, nor how they will affect the tourism sector. The distancing measures are a matter of public safety and their implementation has been based on evidence and expert medical advice. Public health in Scotland will continue to be the priority, and any relaxation of measures will and must be informed by the advice of medical experts.

Last month, the Scottish Government published "COVID-19—A Framework for Decision Making", which is part of our effort to inform and listen to the people of Scotland, and this evidence session is part of that effort. The document outlines our principles and our approach to managing our way through and out of this crisis to, if you like, a new normal. On 5 May, we published an update that set out further information on the challenges that Scotland faces. The update provides illustrative examples of the steps that might form part of the initial changes to the current lockdown restrictions.

It also sets out some options that we are working on, in terms of assessing the impact and the practicalities of implementation. I am working closely on that with our public agencies and the tourism sector as a whole, so that we will be ready to make changes when the evidence tells us that it is safe so to do."
For a copy of the full report click here.
SCOTTISH TOURISM INTENTIONS – VIEWS OF SCOTS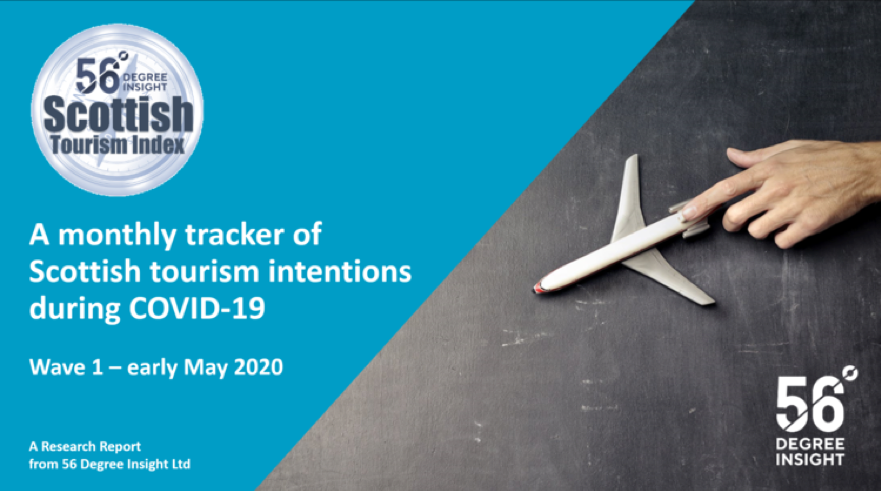 56 Degree Insight has launched a new survey designed to monitor the tourism and leisure desires and concerns of the Scottish population – The Scottish Tourism Index. Where will they want to go first when conditions allow, and what will they take into account when planning that trip?
From this first wave of research undertaken in early May, some key findings have emerged:
Although there are some clear variations by lifestage, for most Scots, COVID-19 is forcing a reconsideration of attitudes and opinions about holidays and breaks in the future: four key changes in attitude are emerging:
Avoiding public transport and/or choosing to travel only in a private car
Avoiding international travel often due to fears of travelling by airAvoiding busy places and being very aware of social distancingBeing more aware of the cleanliness and hygiene standards
Scots holidaying horizons when restrictions are lifted are generally likely to have been reduced in scale.  Initially at least, the domestic tourism industry is likely to be a particular potential beneficiary:
Day trips have highest appeal followed by Scottish breaks and holidays then holidays elsewhere in Britain then holidays overseas – for many it's one step at a time as there will be an initial desire to not stray too far from the safety of home.
But there will be differential benefits to the Scottish tourism industry, at least initially. The countryside is of greatest appeal, followed by the seaside and then towns and cities. 'Recovery' will be by no means equal.
We are likely to return to a new world of attitudes and choices when it comes to holidays in Scotland.  Destinations, accommodation and what to do on holiday are all likely to change in the immediate term:
At the moment, the Highlands, rural parts of the south of Scotland and the islands all have higher levels of appeal than has been the case over recent years – this will require careful management to ensure honeypot sites in these areas do not become overwhelmed
In terms of accommodation choice, self-catering accommodation and own caravans and tents will have greater appeal whereas serviced accommodation and hostels/bunkhouses will have reduced appeal. In early May, looking ahead, a key focus was likely to be on hygiene/cleanliness and minimising social contacts by choosing accommodation which is sufficiently self-contained and often rural.
Choosing what to do on a Scottish holiday is also being changed by COVID-19 with an increased desire to visit the natural outdoors and take part in more active pursuits. On the other hand, indoor activities such as visits to arts and cultural venues, and purpose built attractions will have reduced appeal. Scots are also less likely to wish to eat out when on holiday – with a move towards cooking their own meals.
And attendance at events and festivals and mixing with locals both have much less appeal now than previously.  Given the importance of Scotland's 'friendly welcome' messaging, navigating around this will require a lot of thought. 
You can download the full report here.
Image: Stac Pollaidh by Steven Gourlay Photography Ltd