The Scottish Government has announced an update on the approach to physical distancing as well as data collection of customer details to support the Test and Protect system. Communication encourages the adoption of a supportive approach to the use of outdoor spaces and 'the '28-day rule'.
Physical Distancing – Scottish Government's Route Map Update
The Scottish Government announced an update on the approach to physical distancing in light of advice from the Scottish Government COVID-19 Advisory Group.
The updated Route Map states that:- "At present, we consider the following sectors and settings appropriate for exceptions to the 2 metre rule. As noted, this is not a blanket exception for each sector; individual settings must implement agreed mitigations to qualify for the exception:
Public Transport 
Outdoor hospitality
Indoor hospitality
Retail (including personal retail services)
Examples of mitigations for the Hospitality Sector are currently:-
No standing – all customers seated
Face coverings by staff
Clear systems for safe ordering and payments
Clear systems for safe use of toilet facilities
Use of screens between seating areas
Good ventilation
Good signage
Reduced noise measures e.g. no background music, to reduce need for customers to shout
Ahead of the reopening of hospitality and tourism, further guidance is also being prepared on the collection of customer contact details to support Test and Protect, which is an important additional mitigating measure.
An updated copy of the Route Map can be seen here – Coronavirus (COVID-19) Phase 2: Scotland's route map – physical distancing update
Data Collection of Customers Details – Update
As per the First Minister's statement, businesses, initially in the hospitality sector, will need to record the contact details of customers to support the Test and Protect system.
Guidance on this will be published very soon and this will set out the essential elements of what business need to be aware of in legal aspects and do in practical measures. It will be supported by two pieces of support material – a Privacy Notice and diagrammatical poster, both of which can be used in premises to help with awareness, for both customers and staff. There will also be appropriate communications material to coincide with opening of outdoor spaces on Monday 6th July.
What businesses should do:-
consider if current systems already record customer details or if something new needs to be put in place i.e. manual record book – this may save you time over the weekend.
look out for alerts for when the guidance is published.
make it available to staff and become familiar with it.   The guidance itself is around 7 pages so not a huge document.
print off the Privacy Notice and Poster and place in an appropriate place on the premises
COVID-19 – Planning – and use of outdoor spaces and 'the '28-day rule'
The Scottish Government's Chief Planner and the Minister for Local Government have issued a joint communication regarding Council planning interests in the temporary use of outdoor spaces during the coronavirus pandemic to Local Government.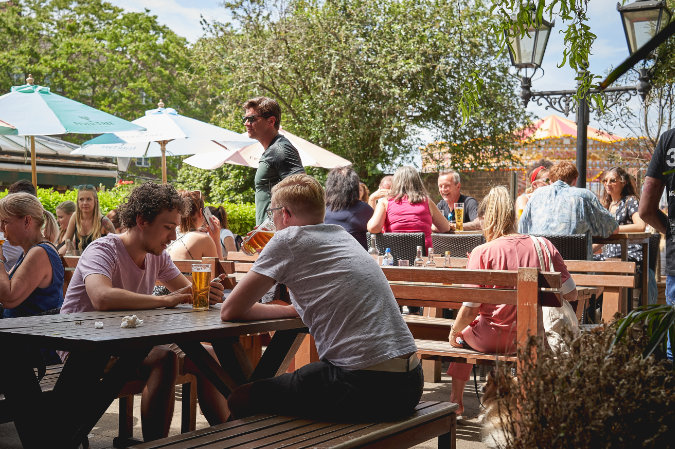 The communication encourages the adoption of a supportive, pragmatic and flexible approach to temporary developments and changes of use which would enable businesses to diversify or adjust the way they operate as the lockdown eases.
It also seeks to build on previously issued guidance, with a specific reference to uses of land which can already happen in line with time-limited permitted development rights, and also in recognition of current interest in temporary outdoor uses such as the provision of outdoor seating by pubs, cafés and restaurants, including beer gardens.
It also highlights that as the hospitality industry re-opens with physical distancing measures, the Government wants to encourage the sector to take steps to provide a safe and pleasant environment for customers and which will also assist the viability of the sector. The communication recognises that in the main, the most appropriate, straightforward and efficient way planning can allow for reasonable temporary changes of use during this period is through informally relaxing planning controls; particularly by agreeing not to take enforcement action against acceptable planning breaches that will allow for businesses to operate and for some normality to return to life within our communities.
A copy of the communication can be read here.