An award-winning St Andrews bar and restaurant has had a makeover to transform it into a lighter and brighter establishment.
The Adamson, in the popular Fife town's South Street, was closed for just over two weeks during the refurbishment which has resulted in a more stylish and contemporary look with bright colours in the restaurant and a new feature entrance wall in the cocktail bar.
Occupying a historic site in St Andrews, the property was home to the Adamson family in the early 1800s where the eldest son, Dr John Adamson, was a physician and pioneer photographer.
The venue has also unveiled new-look a la carte, market and bar menus showcasing the best of local and seasonal products, together with an exciting cocktail offering.
Julie Lewis, managing director, said: "We were closed for three weeks and have transformed the space to be less formal with a more relaxed and cool vibe while still retaining its warmth, charm and buzz.
"The Adamson has been open for eight years and with new lighting, furnishings and decor, initial reaction from guests has been very positive."
Design duo Xanthe Weir and Rachel Richmond from Decor Air in Edinburgh were appointed by The Adamson to redesign the premises. "Our brief was to make the space less formal with a more relaxed and cool vibe," they explained. "We wanted to create a lighter atmosphere through colour choice and by adding accent areas and tactile fabrics."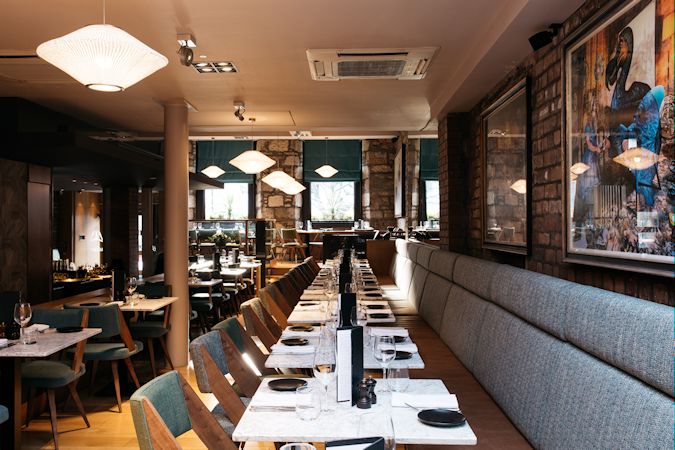 The new-look restaurant also features lighting by Arturo Alvarez, a contemporary Spanish designer while new chairs have a stained oak frame with upholstery in teal, green and grey. Marble tables have also been added throughout.
Xanthe Weir added: "The cocktail bar has been renovated with a wonderful new wallpaper by Cole & Son. The rich colours and geometric angles work well with the wood and new paint colour choice from Farrow & Ball."
The Adamson Restaurant & Bar is open daily from 12pm.